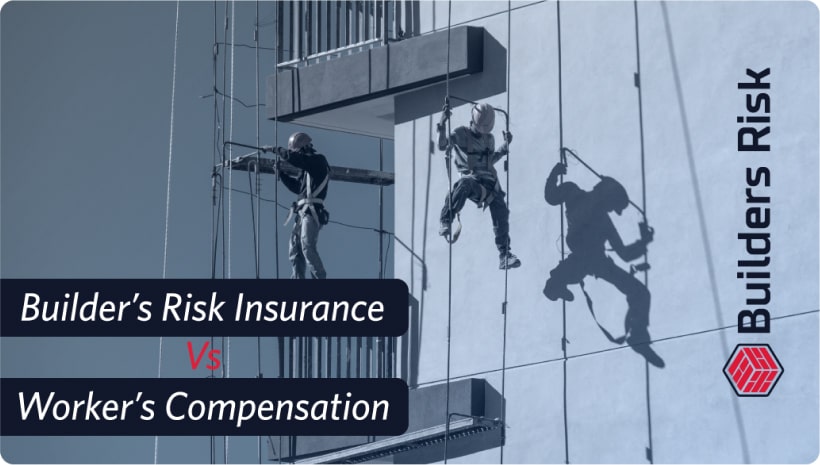 Builder's Risk Insurance vs Workers Compensation
April 22, 2020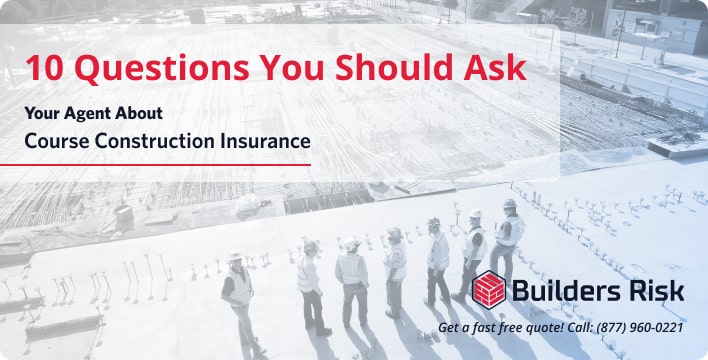 10 Questions You Should Ask Your Agent About Course of Construction Insurance
July 1, 2020
The Builder's Risk Insurance Policy That Protects Your Profits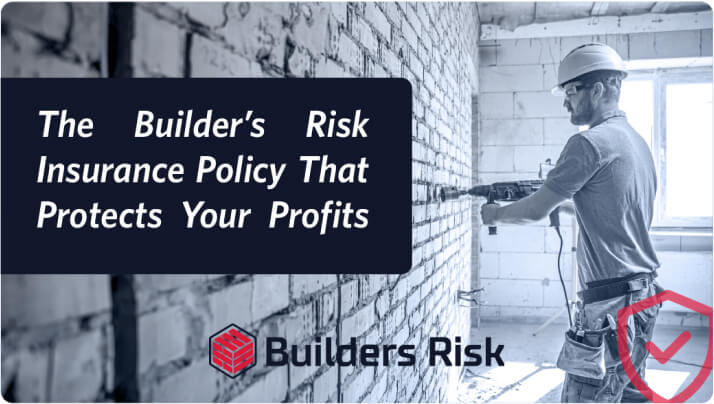 Did you know that theft of materials and equipment costs construction companies thousands of dollars and lowers their profits?
You may have heard of builder's risk insurance if you run a construction business. However, as a business owner, you may not know what builders risk policies cover and who should buy them.
A builder's risk insurance policy is one of the best and most affordable ways to protect your profits. Note that the purpose of builder's risk insurance is to transfer various risks you face, such as the risk of theft, to another party.
You can easily determine the risks and problems you will likely encounter in your construction project and get business insurance coverage for them so whether you are setting up your small business in the construction industry or would like to brush up on the basics, we have you covered in this article.
What is Builder's Risk Insurance?
Builders risk policies, also known as course of construction insurance policies, are specific types of property insurance policies that protect buildings that aren't yet completed or are still in the construction process.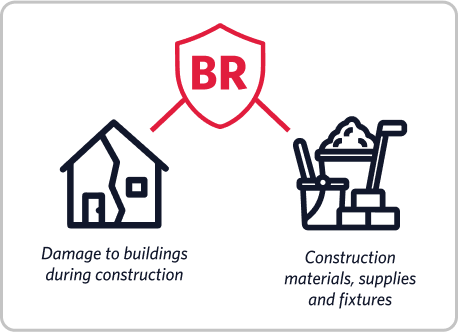 You should know that builders risk insurance is different from commercial property insurance, and it indemnifies against damage to buildings during construction, not to a completed building. You will be happy to know that builders risk policies cover almost everything associated with the construction project, including construction materials, supplies, and fixtures.
How Builders Risk Insurance Cover Protects Your Profits
When you are working on construction projects, your builders risk policy will pay when a specific risk materializes.
For example, theft and vandalism are some common occurrences on construction sites. Note that the costs of replacement or repair often run into thousands of dollars. However, the good news is that you can get builders risk insurance to cover the expenses incurred.
Builders Risk Coverage
It can also cover unique construction risks and exposures, such as:

Theft and Vandalism
It can become a challenge protecting your equipment and materials on your construction site. Furthermore, if you fall victim to malicious vandalism, your Builder's Risk Policy may provide coverage for the loss.
There are different policies regarding coverage for theft. In some policies, it cannot go beyond the amount of the policy. There are even some policies that don't even provide coverage for theft. Consequently, before investing in your Builder's Risk Policy be sure to get advice from your insurance agent.

SoftCosts
Did you know that many "soft costs" are associated with delayed construction projects because of construction damage? Furthermore, additional expenses on financing, architectural fees, real estate taxes, and permit fees can push your construction project over budget. So it's better to be prepared and do what you can to avoid these costs.

Damage at Your Construction Site
Damage coverage is the primary benefit of Builder's Risk Insurance. This damage can be caused by natural disasters and weather events such as hail, lightning, tornado, hurricane or fire.
However, in coastal and tornado states, many policies do not provide coverage for hail and wind. To an extent, it depends on where you live and the location of your construction site as well. Usually, basic Builder's Risk Coverage doesn't cover flood damage, so you will have to include it as an additional endorsement.

Other Types of Construction Projects:
Commercial general liability does not cover the buildings in progress as builders' risk does.
Remember that during construction, specific parts of the building that usually would not be exposed to damage or loss are at risk and will be at risk until the construction project is completed.
New construction: The builder's risk insurance covers new construction projects. The policy will pay out if you may have to foot the bill for any damage caused during building your new home, as well as providing financial assistance with repairs after an unfortunate event.
Remodeling: Remodeling is one of the types of construction projects covered by your Builder's Risk Insurance Policy. Builders can benefit from this insurance when renovating the interior of an office building or residential home. Consequently, house flippers, homeowners, and contractors with insurable interests benefit from this insurance policy as well. 
Restructuring: Adding a staircase, removing load-bearing walls, or reinforcing the foundation of a building can be referred to as restructuring. Moreover, Builder's Risk coverage can give you some peace of mind during restructuring. Furthermore, this insurance is an extra layer of protection for builders during a restructuring project.
Who Should Use Builder's Risk Insurance to Protect Profits?
All new construction projects and major renovation projects, such as home renovations, need builders risk insurance. Apart from the builder or contractor, other parties might have an insurable financial interest in the development, which exposes them to loss.
Although only one party purchases the builder's risk policy, the policy is often written to protect these other parties.
Builder's Risk Insurance Cost
The total builder's risk insurance cost is variable and depends on the insurance coverage you need to protect your interest.
For instance, you may have to add coverage extensions to protect your construction projects if new issues and problems arise or the scope of the construction work changes. In most cases, the cost of builders risk insurance will depend on:
Scope of the construction project
Location of the construction site
Policy details, such as coverage limits and amounts
Cost of materials
A simple rule is to choose insurance coverage limits for your builder's insurance policies equal to 1% to 5% of the total construction cost.
How to Choose the Right Builder's Insurance Policy
The best builders risk insurance covers your property and materials and minimizes business interruption. So, how can you choose the right builders risk policy for your business? Use these tips to protect against property damage with the most suitable builder's risk policies.

Determine Your Business Risks
Before buying any builder's risk insurance cover, perform a two-step check.
Know what type of protection you need for the covered property
Determine if the policy provisions offer this coverage.
You should also determine whether you work more on residential or commercial projects and consider which insurance company is likely to provide the best coverage.
You should carefully consider things like additional soft costs, when the coverage begins and whether an existing structure is covered. An independent insurance agent can help construction businesses make the right decision.
A constantly changing or evolving construction business has considerably different insurance needs than a slow and steady one. Most insurance providers keep this in mind when they provide coverage to contractors and building owners with a financial stake in the development.
Do Some Research
You should also do some online research to learn about builder's risk coverage, paying special attention to factors like covered loss and replacement value clauses.
Most insurers now operate online, and getting in touch is a simple way to learn about builders risk policies and what is specifically excluded. That is important because most builders have unique risks, and builders risk policies tend to vary widely.
You should also read the entire policy to see if the policy will protect your job site till the project's completion date.
Before deciding on a builder's risk insurance policy for your project, it is best to have a clear idea about what you're getting into and if any additional costs are involved.

Choose the Best Insurance Company
You must work with the best insurance company to find the builder's risk insurance policy that protects your profits. A construction contract can last many years, and a lot may change during that time.
Many insurance carriers tend to change their risk appetite, and some may be unstable in the builders risk space. Suppose you don't work with a financially strong carrier who understands the construction industry. In that case, you may suffer from a significant business interruption and end up paying for an ineffective builder's risk insurance policy.
Final Thoughts
Replacing the materials, equipment, supplies, or tools required to complete a job because of various construction risks could devastate your project budget and may even require permanent financing. If you had to tap into your cash reserves to replace damaged or stolen equipment, it might deplete your profits. Fortunately, your builder's risk insurance policy can protect your tools and materials off-site, on-site, and even in transit.
Partner with an Independent Insurance Agent
If you need coverage for your next construction project or want to know builder's risk insurance cost, you should speak with an experienced and knowledgeable team to discuss your specific needs and requirements. If you want to learn more about builders' risk insurance and how a broker can help, your questions can be answered by experienced agents here at Builders Risk. You can also call 24/7 at (855) 480-2252 and learn about your options.
Written by:
John Brown
John has more than 25 years of experience in the insurance industry. He grew from a star insurance producer to owning one of the largest agencies in the country; he's a reference regarding contractor's insurance, commercial insurance, and builders' risk insurance.