Builders Risk Insurance in California
Protecting Your California Construction Venture: An Overview of Builders Risk Insurance
Call Us Now! and Get your Builders Risk Insurance Today!

Builders Risk Insurance in California
Builders' Risk Insurance is a crucial component of risk management when it comes to construction projects. This type of insurance provides financial protection against a range of risks, allowing construction work to proceed smoothly even in the face of unexpected events throughout the building process. It's imperative that project stakeholders and builders take the time to carefully consider this insurance in order to protect their investments and minimize the risk of financial losses.
At Builders Risk.net, trust is the cornerstone of our service. We understand that you want reliability, financial stability, and a commitment to your needs when it comes to insurance. That's why we've carefully chosen our partners from among the most respected names in the industry. Meet the esteemed insurers who stand behind our services: Travelers, Nationwide, Tokio Marine, Distinguished Programs, Zurich, and Liberty Mutual.
Understanding California's Builders Risk Insurance Mandate
---
---
Construction projects in California, with its unique risks and challenges, often rely on Builders Risk Insurance to protect against unforeseen events. When the unexpected occurs, understanding how to navigate the claims process is essential. This comprehensive guide will walk you through the intricacies of filing and managing Builders Risk Insurance claims in California.
Understanding the triggers: Identify the specific events or damages covered by your Builders Risk Insurance policy that warrant a claim. These may include fire damage, theft, vandalism, natural disasters, or other covered perils.
Timeliness is crucial: Builders Risk Insurance policies have strict deadlines for filing claims. Be aware of these timelines to ensure your claim is valid.
Contact your insurer: Notify your insurance provider as soon as the covered event occurs. Promptly reporting the incident is essential to initiate the claims process.
Document the damage: Take thorough photographs and videos of the damage or loss. Proper documentation is crucial in substantiating your claim.
Gather evidence: Collect all relevant documents, including contracts, invoices, and records related to the damaged property or materials. These will support your claim.
Claims investigation: Insurance adjusters will assess the extent of the damage and investigate the circumstances surrounding the claim. Cooperate fully during this process.
Providing information: Be prepared to answer questions and provide any necessary documentation requested by the adjuster.
Obtain repair estimates: Seek estimates from reputable contractors or professionals to determine the cost of repairing or replacing the damaged property or materials.
Review your policy: Understand the coverage limits and deductibles outlined in your Builders Risk Insurance policy to manage your expectations regarding the claim payout.
Claim approval: If the claim is approved, you'll receive compensation based on the terms and coverage of your policy. This may involve reimbursement for repair or replacement costs and other covered expenses.
Claim denial: In cases of claim denial, review the denial reasons provided by the insurer. You may have the option to appeal the decision or work with your insurance agent to address any issues.
Using the payout: Ensure that the claim payout is used for the intended purpose, such as repairing or replacing damaged property or materials, to keep your project on track.
Policy renewal: If your project extends beyond the original policy term, discuss policy renewal or extensions with your insurer to maintain coverage.
Builders Risk Insurance vs. Property Insurance: Understanding the Differences
---
It's important to note that while Builder's Risk Insurance provides robust coverage for many construction-related risks, certain situations and perils are typically excluded from this type of insurance:
State-Specific Requirements:
Builders Risk Insurance:
Focus: Builders Risk Insurance primarily covers the structure under construction, materials, and equipment on-site.
When it Applies: This policy begins when construction starts and typically ends when the project is completed, occupied, or the policy term expires.

Contractors All Risk Insurance (CAR):
Focus: CAR Insurance offers broader coverage. It includes protection for the construction project (similar to Builders Risk) but also extends to third-party liabilities and additional perils.
When it Applies: CAR Insurance provides coverage during the construction phase, including materials and equipment, and may continue during the maintenance or defects liability period.
Project Types:
Builders Risk Insurance:
Ideally suited for property owners, contractors, and developers looking to protect the physical assets involved in construction.

Contractors All Risk Insurance (CAR):
A more comprehensive choice for larger projects involving various stakeholders, subcontractors, and a broader scope of potential risks.
Builders Risk Insurance for California Home Renovations: Coverage for Residential Remodeling.
---
Builders Risk Insurance for California Home Renovations is a specialized insurance policy designed to provide coverage for residential remodeling projects in the Golden State. Whether you're planning to update your kitchen, renovate your bathroom, or add an entirely new wing to your home, this insurance offers essential protection against various risks and unexpected events that can occur during the renovation process.
Key Coverage Aspects for California Home Renovations:
Builders Risk Insurance for California Home Renovations offers vital protection during remodeling projects in the Golden State. Here are key aspects of this insurance:
---
Here's an organized breakdown of what Builders Risk Insurance typically covers and what it doesn't cover:
Builders Risk Insurance offers essential coverage for various aspects of your California home renovation project, safeguarding against many risks but with specific exclusions and limitations to keep in mind.
California Builders Risk Insurance: Tips for a Seamless Claims Process
---
Introduction: While California's Builders Risk Insurance provides essential protection for construction projects, there may still be instances where you need to file a claim due to unexpected events or damage. Navigating the claims process effectively is crucial to ensure a smooth and timely resolution. In this guide, we'll provide valuable tips to help you streamline the claims process for your California Builders Risk Insurance.
Filing a Builders Risk Insurance claim in California doesn't have to be a daunting process. By understanding your policy, promptly reporting damage, and following these tips, you can navigate the claims process seamlessly. Remember that your insurer is there to assist you in getting your construction project back on track, and effective communication and documentation play key roles in achieving a favorable outcome.
Who Needs Builders' Risk Coverage?
---
In California, Builder's Risk Insurance benefits many stakeholders in construction projects. Property owners, contractors, lenders, investors, project managers, property developers, real estate investors, and project stakeholders find value in this coverage. It safeguards investments, ensures financial security, and lets everyone involved focus on project goals.
What Types of Property Does Builder's Risk Insurance Cover?
---
Builder's Risk Insurance typically covers the following types of property:
Structures
Materials
Construction Equipment
Temporary Structures
Fixtures
Architectural Plans and Blueprints
It's important to note that the specific coverage details can vary between policies, so property owners, contractors, and project stakeholders should review their policies carefully to understand the extent of coverage provided. Additionally, Builder's Risk Insurance typically covers property only while it is at the construction site or in transit to the site, not after the project is completed or when the property is occupied.
Please take 10 minutes to read our E-Book. It was written with 25 years experience selling Builders Risk for YOU.
You are insuring a big investment and we want you to know more about what you are buying!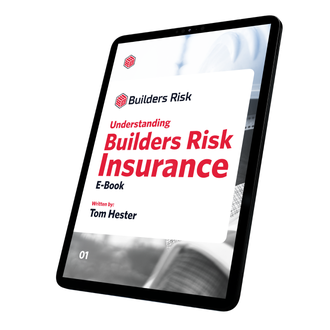 Frequently Asked Questions (FAQ)