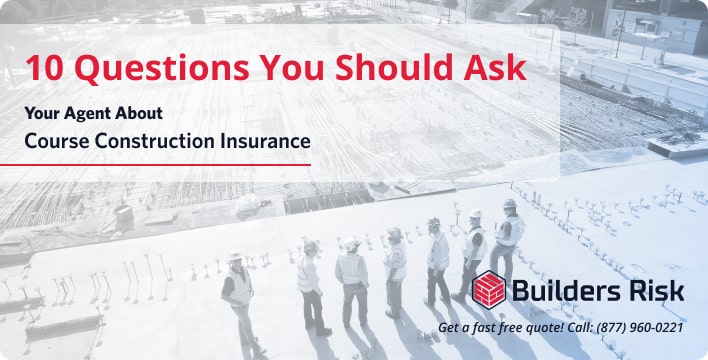 10 Questions You Should Ask Your Agent About Course of Construction Insurance
July 1, 2020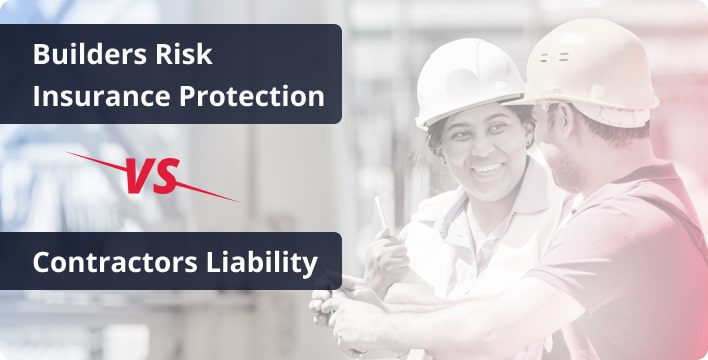 Builders Risk Insurance Protection vs Contractors Liability
August 3, 2020
The Ultimate Guide to the Builder's Risk Insurance Policy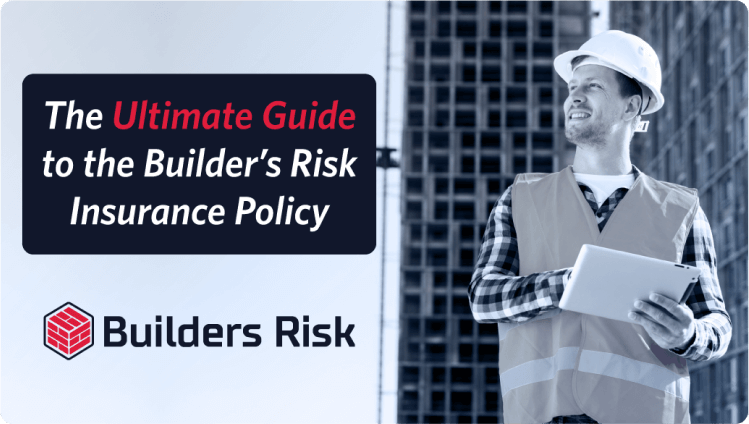 Buildings under construction are prone to different risks. Contractors and building owners face challenges like vandalism, theft of construction materials, natural disasters, etc, while at the job site.
That makes carrying the right insurance policy vital. Builders' risk insurance policy is essential business insurance all construction businesses must-have. We look into its importance, what it covers, and other details in this article.
Who Should Own a Builder's Risk Policy?
We've seen a lot of debates about who should carry the builder's risk policy between the contractor in charge of the construction project and the owner. Any of the two can carry the policy, depending on the agreement in the construction contract.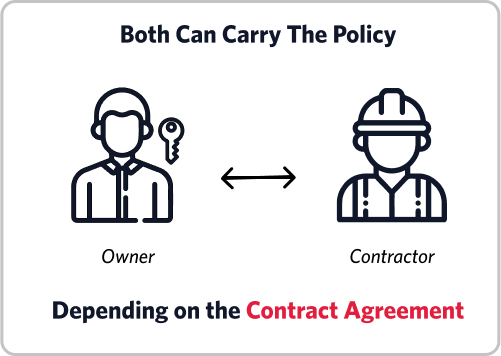 Builders' risk insurance is essential coverage for individuals with a financial interest in the construction project. In cases involving multiple parties, the general contractor can purchase the policy and function as the primary insured, while subcontractors and the owner will be listed as additional insured.
The coverage begins immediately after purchase and ends when the project is completed and handed over.
What's Builders Risk Insurance Policy?
Builders risk insurance (also called cost of construction insurance) is a vital policy in the construction industry. It's the property insurance that protects buildings under construction. The builders' risk policy covers new construction projects and renovated ones. It covers costs incurred due to natural or man-made incidents covered in the policy. Thus, protecting the contractor's financial assets.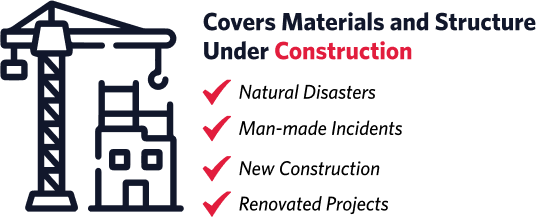 Unlike conventional property insurance, which only covers an existing structure, builders' risk insurance covers construction projects from scratch till completion. Coverage ends when the project has been fully completed and transferred to the owner.
What Does Builders' Risk Insurance Cover?
Every construction project is exposed to different risk types that may cause huge losses and even delay work progress. Vandalism, natural disaster, theft, fire outbreak, etc, are some of these risks. A general contractor without a builder's risk insurance policy may have to pay for these losses out of pocket.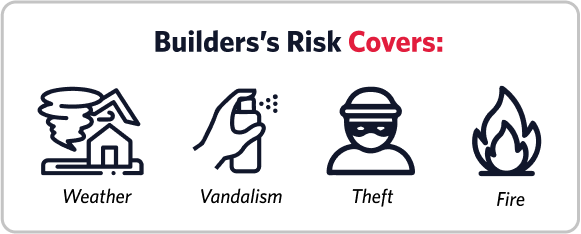 Builder's risk policy covers any of these perils. However, no two insurance coverage can be the same, so the coverage options vary with insurance companies. Thus, policyholders must carefully review what the builders' risk insurance covers before purchasing.
Below are some of the covered perils or events under builders' risk insurance policies:
Property and Construction Materials
Every builder's risk insurance policies cover buildings under construction. Any previously mentioned perils can occur on a construction site, causing huge losses that can affect both business income and personal assets. Builders' risk policies cover property damage caused by these perils, ensuring you don't pay out of pocket and stay within the construction budget.
Builder's risk insurance also covers construction equipment and materials on the construction site, in a temporary structure, stored somewhere off the site, or in transit.
Let's say you're transporting building equipment or materials to or from the job site, and the vehicle gets involved in an accident. The policy pays the materials costs of repair and other property damage expenses. However, it doesn't cover the vehicle itself; commercial auto insurance covers that.

Debris Removal
If a building under construction or renovation suffers damage due to a fire outbreak or other unfortunate events, there's always a need for clearing and cleaning up.
Builder's risk insurance covers the debris removal and contamination cleanup costs. Without your insurance provider, you may have to pay hundreds or thousands of dollars from your pocket to clean up. .

Soft Costs
Damages can sometimes delay a construction project; this attracts accumulated soft costs like taxes, financial interests, permit fees, architectural fees, etc. which the policy would cover.

Valuable Papers and Electronic Data
Contractors utilize blueprints, schematics, electronic data, etc. during projects. The builders' risk insurance policy covers the cost of retrieving these documents/data if they get missing or damaged.
Profits, rental value, temporary structures (e.g. scaffolding), etc. are some of the other coverage under builder's risk policies. You can always contact your insurance company for additional coverage and more options.
What's Excluded in a Builder's Risk Insurance?
Builders' risk insurance policy covers almost all possible risks contractors may encounter while a project is under construction. However, certain events are excluded. They are:

Employee theft
The builder's risk insurance doesn't cover the loss incurred if a worker steals materials or tools during construction. You can purchase a commercial crime policy to cover that.

Flooding or earthquake
These natural disasters are not added to the builders' risk insurance. If the covered property is located in areas prone to any of these disasters, it's best to purchase additional coverage for them.

Workmanship Defects & Third-party claim
Builder's risk insurance policy doesn't cover third-party property damage or injury. You can purchase general liability insurance to cover the defense and settlement costs that may result from such an occurrence. Also, manufacturing or design defects may lead to claims, and you'll need professional liability insurance to cover the legal costs resulting from such a claim.

Equipment Breakdown Coverage
Builder's risk policy doesn't cover equipment breakdown, especially those with no related use to the project or the ones outside construction sites. Equipment insurance covers this risk.

Wear and Tear
Ordinary wear and tear aren't covered under the builders' risk insurance because the policy only covers unexpected events.

Post-completion damage
Builder's risk insurance doesn't cover any defect or damage that occurs when the project is completed. Usually, contractors purchase similar coverage like similar business property or Inland marine insurance policy for property and transporting equipment after project completion.
How Much Does Builder's Risk Insurance Cost?
Insurance companies usually calculate 1-5% of the project's total budget plus other variables to determine builders' risk insurance cost. Beyond this, various factors determine the insurance cost most construction companies or contractors will pay on builder's risk policies. They include project costs, location, duration, construction site measurement, coverage amount, project logistics, etc.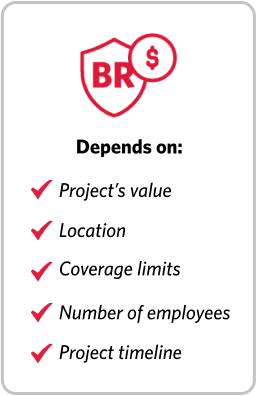 Before getting a quote for builders' risk insurance, any company should consider the project's budget. That includes the total value of the completed building without the land value, plus the labor costs, material costs, and other expenses. Also, estimating the soft costs of project delay and further additional coverage can help determine your coverage limits.
How to Get Builders Insurance Policy
You can get the builder's risk insurance from any reputable insurance company directly or through an insurance agent. However, getting an insurance broker is advisable to obtain the best deal. Brokers work with multiple insurance providers and can get you free quotes in just a few minutes to compare rates. You can reach out to us to purchase builders risk insurance with ease.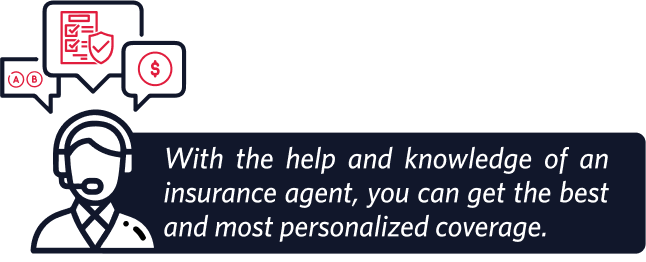 Written by:
John Brown
John has more than 25 years of experience in the insurance industry. He grew from a star insurance producer to owning one of the largest agencies in the country; he's a reference regarding contractor's insurance, commercial insurance, and builders' risk insurance.