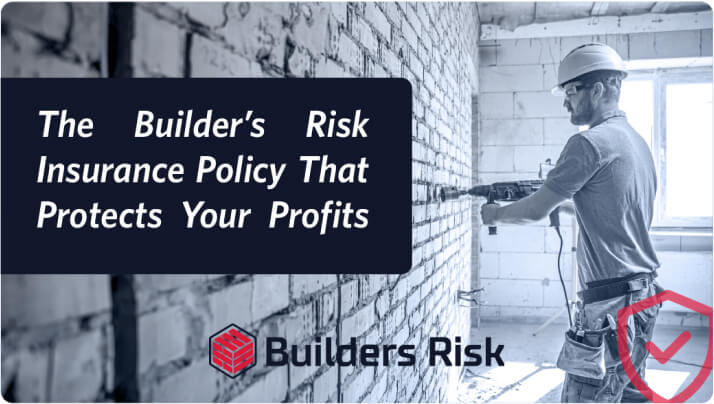 The Builder's Risk Insurance Policy That Protects Your Profits
May 25, 2020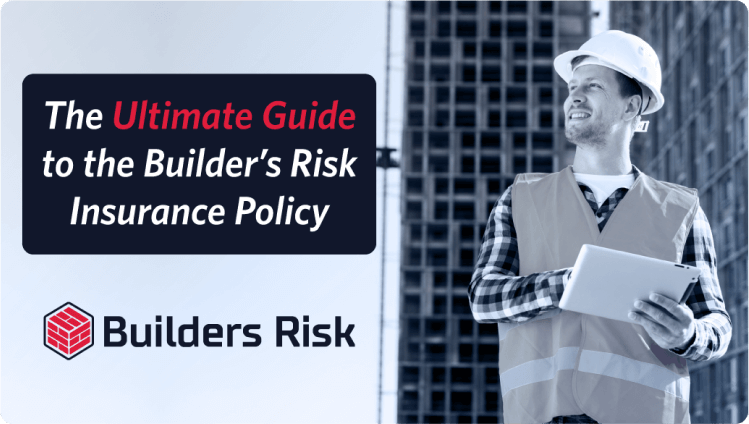 The Ultimate Guide to the Builder's Risk Insurance Policy
July 6, 2020
10 Questions You Should Ask Your Agent About Course of Construction Insurance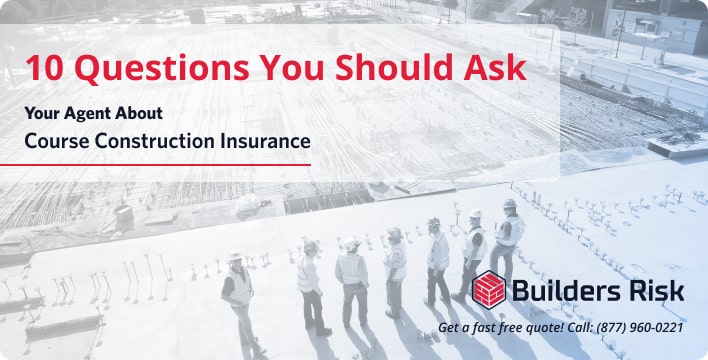 Course of Construction Insurance is the way savvy contractors protect their profits. This policy is also known as Builder's Risk Insurance precisely because it covers you from many common risks on a building project.
There are too many unknown situations and things can occur which you have no control over. Therefore, this is where this specialized coverage plays a key part.

Although, before spending your money on a policy of this kind, it is very important to ask your insurance agent some questions. Nobody knows your business better than you, so it is crucial to understand what exactly is covered and what is not, to avoid nasty surprises in the event of a loss.
So let's talk about some of the questions you should ask about this insurance so you can make an informed decision:
1. What Exactly is Course of Construction Insurance?
This insurance is also known as Builder's Risk Insurance. Both of the names are helpful descriptors. Accordingly, it is specialized property coverage that covers a project in the course of building. It has a fixed term that commences when building starts. As a result, the policy also has a termination date, which is aligned to completion. Furthermore, it provides coverage for many of the risks that are common to building projects, including fire, hail, theft, vandalism and explosions.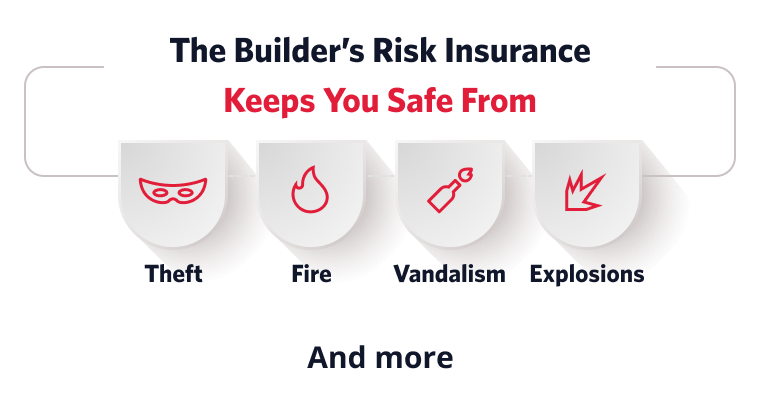 2. Why is it Called Specialized Insurance?
Course of Construction Insurance is for properties and buildings in the process of construction. It's specialized for that purpose. It applies to buildings that are being newly built and also to existing buildings that are undergoing renovation or restructuring. It's property coverage, and it pays replacement costs for the loss of property.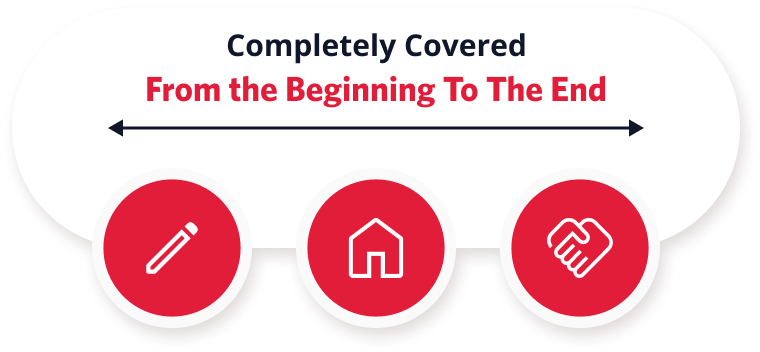 3. What Specific Coverage Can You Provide?
You should have some sort of plan on exactly what you want covered. Keep in mind the more assets that are into play, the more the premium will be. Remember, certain perils may be covered under your general liability insurance policy or inland marine coverage. There is no benefit of paying twice for coverage. You will not be able to collect from both policies. Also, the insurance company will be more likely to refuse to refund any premiums that you have paid for duplicate coverage.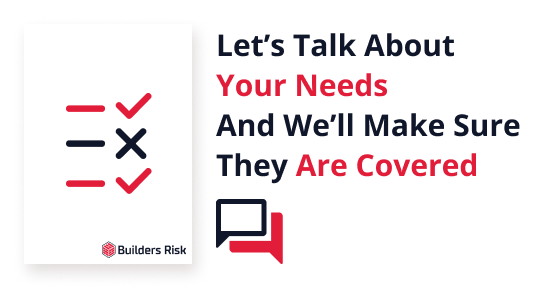 4. Can I Get a One-Size-Fits-All Policy?
When it comes to Course of Construction Insurance, an off-the-shelf solution will not do. Your project is unique. It is built in a particular location, using specific materials, with the installation of certain fittings and fixtures. The cost of each project is different. It makes sense that your policy should be customized for your needs.

You can include coverage for many unexpected events in the construction process, like fire, theft, vandalism, loss of profit, labor costs, damage to equipment, debris removal, and more.
5. Are There Exclusions On My Policy?
Your policy may have exclusions, and our agents at Builder's Risk.net will talk you through your coverage. Often, policies for projects in a coastal area exclude wind, flooding, and earthquakes. These risks can be added to your policy, which goes back to the first point. Tailor your policy for your needs.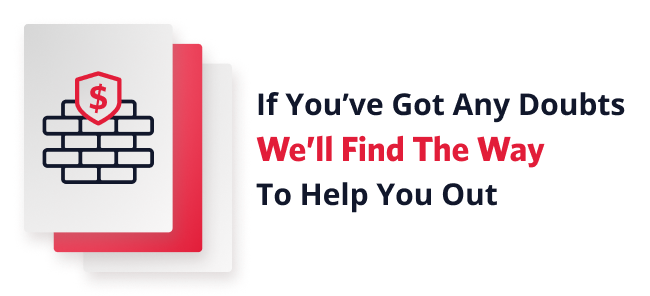 6. What Are The Deductibles?
A deductible is the amount you pay before getting reimbursed from a claim. Just like any other type of insurance policy, Builder's Risk Insurance has a deductible. You should always ask your agent to get you a quote using at least 2 or 3 different deductible amounts.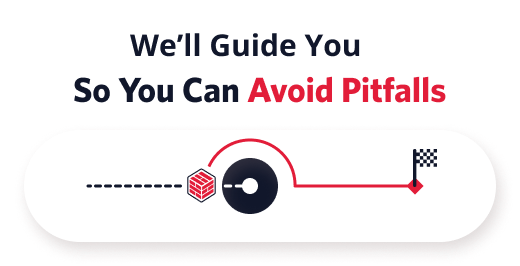 This will give you enough information to weigh the possible insurance savings versus your out-of-pocket expenses in case of a loss. The amount you choose will be up to you and how risk averse you are.
7. For How Long is My Policy Valid?
Course of Construction Insurance has a term limit. It is for 3, 6, or 12 months. You choose the length of your policy according to how long your construction is going to take. Your commencement date should be when the building process starts. Once the project is finished and the building is ready for occupancy, you need new property insurance.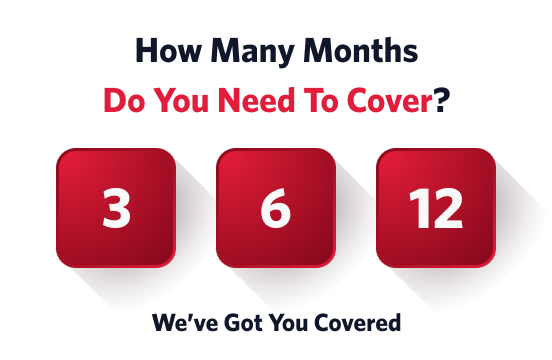 8. What Carriers Do You Represent?
If you choose BuildersRisk.Net, they will save you the hassle of shopping around as they use all the major carriers like Liberty Mutual, Distinguished, Zurich and TAPCO, and will be able to get you at least 3 different quotes in a matter of hours. This process done on your own could take days or even weeks.

9. What are the Benefits of Having a Builder's Risk Policy?
There are many benefits to having a policy. Some of them include the following:
It pays out for common loss events: Fire, theft and vandalism are common occurrences on building projects. More than 6000 fires take place on construction sites every year. As a result, up to $1 billion worth of tools, equipment and material is stolen every year. On a daily basis, vandals frequently damage equipment and the building in progress. Arson accounts for up to a third of property damage by fire. Builder's Risk Insurance has all these events covered.
It protects all participants in the project: A Builder's Risk policy can give coverage to all the participants in a project. This can include the owner, contractor, sub-contractors, architects, engineers, and lenders. Furthermore, all parties that have a financial interest in the project can be included.
It is tailored to your needs: Course of Construction Insurance is customized for your needs. Your project is unique and this should be reflected in your policy. Our agents at Builder's Risk.net will write up a policy that covers you for the risks you are exposed to. Fire, theft and vandalism are only 3 examples of coverage provided. There are many more loss events that can be covered, or excluded as per your needs.
10. How Can I Get a Course of Construction Insurance?
If you are ready to get a quote for Builder's Risk Insurance, the first step is to contact us. We will put you in touch with one of our licensed agents, who will be pleased to respond to all of your questions. With this information, they will be able to get 3 quotes from different carriers and send them to you within hours.

Pro Tip: Take into account your project valuations
The value of the project is one of the greatest factors in determining the premium. This is where your personal expertise comes into play. No matter how good or experienced your agent is, they really have no way of accurately determining the valuation of your project.
Further in 2022, building material prices have increased at a record rate. Supply chain problems and labor shortages have further caused massive price increases. If your costs have increased significantly from your original estimate, you should contact your agent immediately.
An endorsement to the policy can be made increasing the values. You just need documentation showing the increase in cost. Most of the carriers will just increase the premium for the increased valuation. It is also important to note that if the project has been delayed, make sure to extend the term of the policy before it lapses.
When the policy is still in force, it is easy to extend it. It can be very difficult to reinstate coverage if you let the policy lapse.
Want To Learn More?
Our agents at BuildersRisk.net are a call away. We are experts in insurance with a solid knowledge of the construction industry.

Written by:
John Brown
John has more than 25 years of experience in the insurance industry. He grew from a star insurance producer to owning one of the largest agencies in the country; he's a reference regarding contractor's insurance, commercial insurance, and builders' risk insurance.