Builders Risk Insurance in New York
Protecting Your New York Construction Venture: An Overview of Builders Risk Insurance
Call Us Now! and Get your Builders Risk Insurance Today!
Builders Risk Insurance in New York
Builders Risk Insurance is a crucial safeguard for construction projects in New York as it covers a variety of potential risks and protects the financial investment associated with the project. This insurance policy not only applies to the construction site but also extends to the materials stored on-site and sometimes to the construction machinery and tools, guaranteeing safety throughout the project.
The Influence of New York's Climate on Builders Risk Insurance
---
New York State's climate is nothing short of diverse and unpredictable, with regions experiencing everything from harsh winters with heavy snowfall to humid summers and the occasional coastal storm. This climatic diversity undoubtedly impacts Builders Risk Insurance in the Empire State. Let's explore how New York's weather patterns and climate conditions can influence the dynamics of Builders Risk Insurance.
Winter Challenges: Upstate NY faces heavy snow, freezing temperatures, and ice risks. Builders Risk Insurance must cover snow load, frozen pipes, and ice dams, possibly with seasonal policy adjustments.
Temperature Extremes: Sweltering summers and freezing winters can harm materials and equipment. Insurance should protect against these temperature-related risks.
Coastal Vulnerabilities: Coastal regions, like NYC, are prone to tropical storms and hurricanes. Policies here should address water and wind damage, requiring added coverage for hurricane risks.
Risk Management: Builders should proactively plan for climate challenges, and insurance can complement these efforts by covering unforeseen climate-related events.
Seasonal Impact: New York's seasons affect construction timelines. Policies should consider weather-related delays, with some covering extra expenses due to setbacks.
Enhancing Risk Management in Construction
---
Risk management plays a pivotal role in the construction industry, especially in New York's dynamic landscape. Here's why it's crucial:
---
Builders Risk Insurance in New York operates within specific term limits and renewal options. Understanding these terms is vital for effective project management and risk mitigation. Here's what you need to know:
Policy Term Length: Builders Risk policies in New York typically have terms of 3, 6, or 12 months. This flexibility allows you to align coverage with your project's timeline.
Renewals and Extensions: If your construction project extends beyond the initial policy term, you can often extend coverage, usually one term at a time. It's crucial to communicate with your insurance provider to arrange renewals or extensions before the current term expires.
Fully Earned Premiums: Builders Risk Insurance premiums in New York are typically fully earned upon policy issuance. This means no refunds, even if your project finishes earlier than expected. Accurate project timeline estimates are essential to avoid overpaying for coverage.
Coverage End Date: A Builders Risk policy in New York ends when the building is completed, occupied, or at the end of the selected term, whichever occurs first. Once the project concludes, transition to appropriate property insurance for the completed structure.
Builders Risk Insurance vs. Property Insurance: Understanding the Differences
---
Builders Risk Insurance: This policy is specifically tailored for construction projects. It provides coverage for the structure under construction, building materials, and construction equipment. Builders Risk Insurance focuses on protecting your investment during the construction phase, including potential risks like theft, vandalism, fire, and certain natural disasters.

Property Insurance: Property Insurance, also known as Homeowners Insurance or Commercial Property Insurance, offers broader coverage. It protects completed structures and their contents against a wide range of perils, including fire, theft, vandalism, natural disasters, and liability. Property Insurance is designed for structures that are already built and occupied.
What's Not Covered by Builders Risk Insurance
---
Builders' Risk Insurance is valuable during construction projects but has exclusions. Common ones include:
Please take 10 minutes to read our E-Book. It was written with 25 years experience selling Builders Risk for YOU.
You are insuring a big investment and we want you to know more about what you are buying!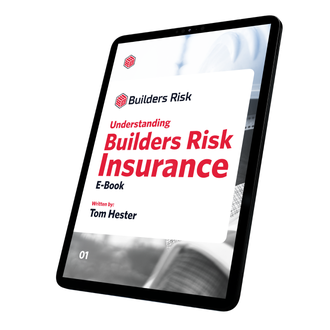 Frequently Asked Questions (FAQ)