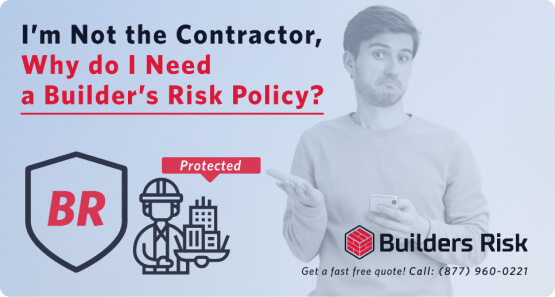 I'm Not the Contractor, Why do I Need a Builder's Risk Policy?
August 24, 2020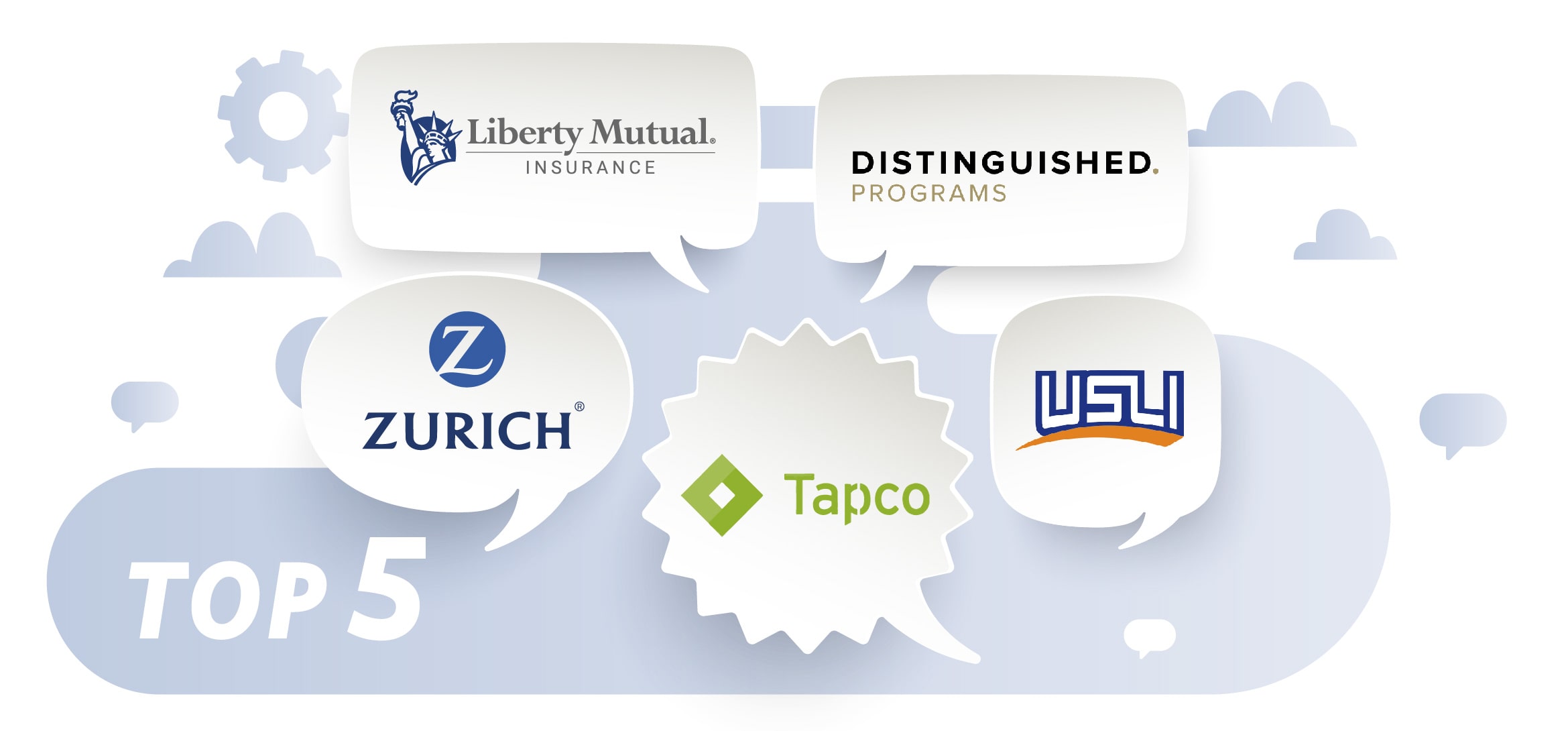 Top 5 Companies For Builder's Risk Insurance
June 23, 2021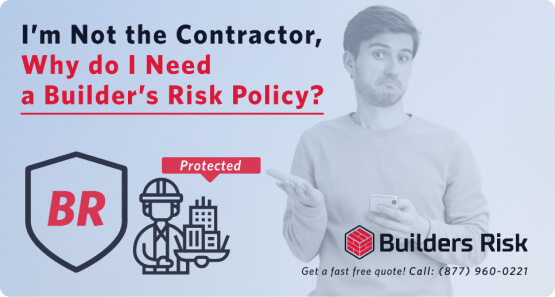 I'm Not the Contractor, Why do I Need a Builder's Risk Policy?
August 24, 2020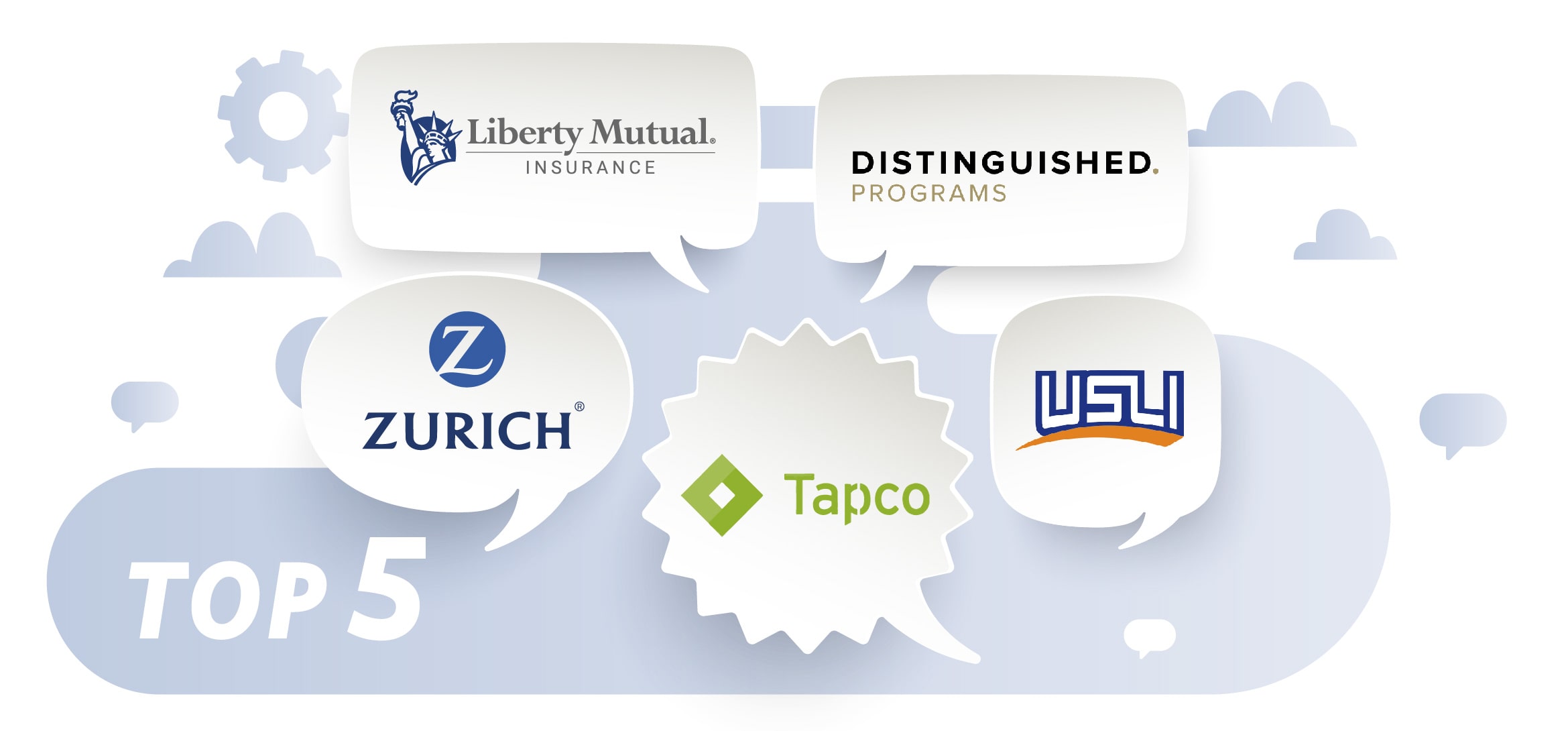 Top 5 Companies For Builder's Risk Insurance
June 23, 2021
Is Builder's Risk Insurance For Property Damage Claims?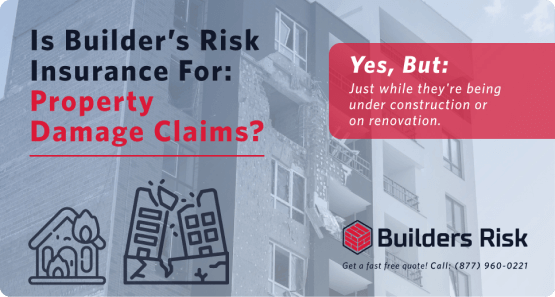 Property damage is part of working in construction. So, for protection against the resulting financial loss, contractors need insurance. Unfortunately, not all insurance is created equal. As a matter of fact, not a single policy will cover all the risks you find on a building project.
For this reason, you have to be careful when investing in insurance. In short: does the policy give you protection from property damage claims?
Insurers design each of these policies to cover losses incurred from specific occurrences. So to adequately protect your business, you will usually require several policies.
Builder's Risk insurance, also known as Course of Construction, is among the essential policies for a contracting business. In a nutshell, this coverage protects buildings and other structures while they are built or renovated. Here's more on Builder's Risk insurance, including whether or not it covers property damage claims.
Do you have any doubt at the moment? Call an Expert.
Is Builder's Risk Insurance Coverage for Property Damage?
Short answer, yes. But there's a catch, Builder's Risk insurance only covers property damage claims resulting from damage to the insured's property during the course of construction.

For Example: Imagine you have an ongoing residential or commercial construction project in one of the areas affected by wildfires. Only to report to the project site one morning and find the building you're working on burned to the ground. In this case, Builder's Risk insurance will help cover the losses specified on your policy.
However, there are instances where your Builder's Risk will not protect your business from property damage claims. For example, if your employee causes property damage to a third party's property, which is a liability claim.
Does Builder's Risk Insurance Cover Liability Claims?
Now, say a third-party makes a liability claim against your business due to bodily injury, property damage, or personal injury caused by your construction activities. Will Builder's Risk insurance cover you then?
No. For protection against liability claims, you will require to purchase a contractor general liability policy.

So assuming you're renovating a client's living room when one of your employees accidentally knocks over an expensive ceramic floor vase, breaking it, only General Liability insurance will protect your business.
In addition to protection against third-party claims of property damage, your Contractor's Liability also provides coverage for the following:
Firstly, injury: Your business has coverage against injury claims by a third person. For example, a hammer that slips your subcontractor's hand lands on a pedestrian walking nearby, injuring them. Note: Coverage does not extend to your employees. For this, you require Workers' Compensation.
Secondly, completed products: Protects your company against claims related to services you have completed or products produced. For instance, if the work undertaken by your company causes harm to your client, you're insured if the client wants to hold you liable for costs.
Thirdly, harm to reputation: For example, being sued for using a photograph of work completed for promotional purposes without authorization from the client. Your policy will protect your business in such a case.
Last but not least, advertising mistakes: Being accused of taking a slogan from another building firm to use as your own. Under those circumstances, Contractor's Liability provides coverage to deal with claims where you have infringed on others' copyrights in your business's advertising.
What Else Does Builder's Risk Insurance Cover?
Builder's Risk insurance also covers all sorts of property damage, including
Building materials and equipment on-site, in transit, or stored offsite
Foundations
Fixtures, such as HVAC equipment and electrical wiring and plumbing installations
Temporary structures, e.g., scaffolding and cribbing
Construction signage
Fencing
Trees and plants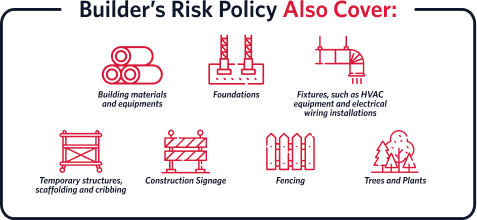 In addition to fire, Builder's Risk policies also protect against loss or damage caused by theft, vandalism, explosion, hail, windstorm (may be excluded in coastal areas), lightning, smoke, and vehicle/aircraft collision. You can extend your coverage to cover other types of property or causes of loss not included in your standard policy.
Common coverage extensions include:
Debris removal.
Pollutant clean-up and removal.
Construction documents.
Soft costs resulting from construction delay (e.g., lost sales, additional interest on loans, and real estate taxes).
What's Not Protected?
Liability claims are not the only exclusions under a Builder's Risk insurance policy. Standard exclusions include extreme weather events such as floods, earthquakes, landslides, and volcanic eruptions. Nevertheless, you can include some of them in the coverage extension. Other causes of loss excluded are:
Employee theft
Government action
Contract penalty
Acts of war or terrorism
Mechanical breakdown
Wear and tear
Rust and corrosion
Faulty work or materials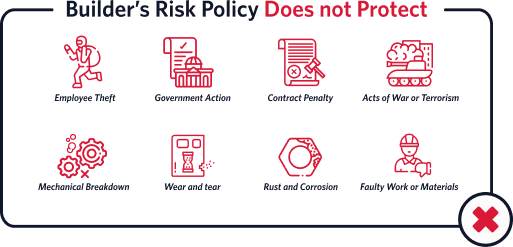 Get The Right Insurance For The Job
Are you embarking on a ground-up or renovation construction project? Builders Risk would like to help protect your business in the event of property damage claims. Talk to one of our agents today at (877) 960-0221, and we'll help you find an affordable policy that's suitable for your business needs.
Written by:
John Brown
John has more than 25 years of experience in the insurance industry. He grew from a star insurance producer to owning one of the largest agencies in the country; he's a reference regarding contractor's insurance, commercial insurance, and builders' risk insurance.