5 Easy Steps To Lower Your Builder Risk Premiums
July 26, 2022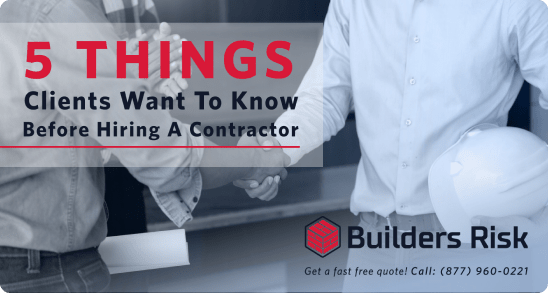 5 Things Clients Want To Know Before Hiring A Contractor
December 21, 2022
Does Builder's Risk include General Liability Insurance for Contractors?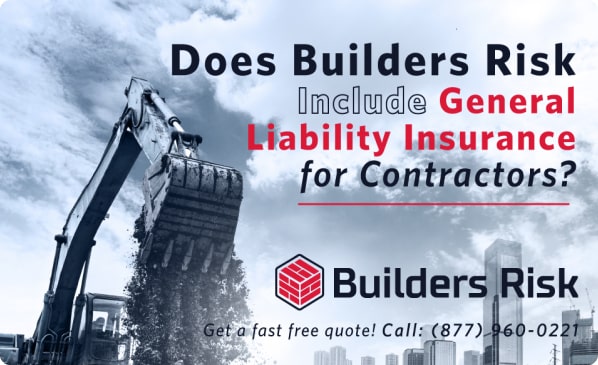 It is difficult for companies and general contractors to work without general property insurance. General Liability insurance coverage defends your business from a wide range of potential claims. Such as bodily harm, property loss, intellectual property infringement, reputational damage, and marketing damage.

On the other hand, Builder´s Risk Insurance covers damages to the under-construction property itself. So they are two different policies that complement each other. One does not replace the other. We'll look at commercial general liability insurance coverage, builder's risk insurance, its definition, and what they are for small businesses and contractors.
Introduction
The construction industry has a high risk for all kinds of accidents. Those accidents can cause harm to the workers, or even to the company itself, if a third party is affected or if the expensive goods and materials are lost or damaged. Therefore, general liability and builders' risk insurance should be available for every construction project.

Without an insurance policy, your construction business is exposed to suffering significant property damage from accidents or unintended consequences like injuries on your job site.
If your service harms a customer, you are in charge of paying any legal fees that may arise and covering the damage caused. They could also easily sue for an enormous amount in court, and you will be obligated to cover everything.
Without the right coverage, you would have to pay for everything out of pocket, which can be a massive blow to any business, but even more to start-ups or small local businesses. That's is why you must avoid any idea to cut costs in insurance policies.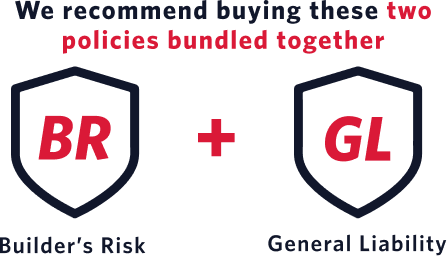 Some clients require their business partners to carry general liability insurance. Suppose you operate in a high-level capacity with another company, contractor, or business establishment. In that case, they risk their reputation with yours and will want to ensure you are not vulnerable.
Contractors General Liability Insurance is a crucial component of your overall insurance plan; combined with Builder's Risk Insurance, you can be calm on your job site.
Builder Risk Insurance Policy
Builders Risk Insurance is specifically tailored to protect property under construction and plays an essential role in the risk management strategy. In addition, damages that occur on the construction site because of external events are contemplated in the Builders' Risk policies:
Catastrophes
Explosions
Fires
Floods
Strong winds
Thunderbolts and lightning
Theft
Vandalism
This policy protects your construction projects at every stage and covers risks from foundation to inauguration. When your reputation and the execution of your projects are at stake, you want to ensure you have the comprehensive protection you need.
It is essential to highlight that this insurance will not cover workplace accidents. For this reason, understanding the main differences between policies is also crucial. Always consider combining both kinds of insurance, General Contractor Liability and Builders Risk.

When considering insurance for contractors and its types, determine the insurance requirements for construction contracts. You must identify the property-related risks and the terms and limits of the policy, which must be adequate to cover all potential losses.
In fact, you must choose the right type of coverage based on the frequency and magnitude of damage that can occur on construction. Besides General Contractor Liability and Builder's Risk, the insurance for contractors and its types, keep in mind:

Commercial Liability Policy
The most common type of insurance within construction is General Liability Coverage, commonly called a Commercial General Liability Policy.
If sued for damaging someone's property or causing bodily injury, this covers you.
It also protects you from claims of advertising mistakes and reputation damage. It pays the costs of your defense and settlement charges creating a foundation for coverage.
Then you can purchase other policies to coordinate coverage based on your particular job or circumstances.

Umbrella Liability Insurance
The Umbrella Liability Coverage policy is ideal for contractors operating large construction sites. Commercial Umbrella Insurance is a policy that increases coverage limits over other policies.
We only use a Commercial Umbrella Policy on insurance claims if the contracted policies can no longer protect the risk, meaning you have an additional risk not currently covered.
For example, it can be added to your Builder's risk policy if you think something is missing.

Professional Liability Coverage
Traditionally, in design-related construction projects, most professionals' responsibility rests with the design professional. However, more and more contractors work as designers and builders and therefore take responsibility for the design and exhibits of their creations.
Conclusion
General Liability Insurance and Builder's Risk defend your business and equipment from various potential risks and claims, including bodily damage, property loss, intellectual property infringement, reputational damage, and marketing-related harm.
You must be in touch with experienced agents in the industry to support you in choosing and receiving the insurance and coverage that best suits you with the right deal. This entire process is more straightforward if you select an independent broker, as they usually work with multiple companies that can offer the best insurance policies for you as a contractor.
Builders Risk is one of the most reputable agencies in that domain since they only work with A+ carriers; hence you can expect impeccable customer service while assisting in your purchasing process.

Do I Need Builder's Risk Insurance for Renovations?
The first question to be asked is, are you the Homeowner or the General Contractor making the renovations? If you are the homeowner looking for an Affordable Home Insurance For Renovations Insurance Policy, the following reasons are the most popular:
If you are doing a large remodeling project or adding an addition, your lender may require you to obtain a Low-Cost Remodeling Builder's Risk insurance Policy as a condition of funding your loan. The Department of Housing and Urban Development has a list of requirements that can be found HERE.
If you are just having a small job done while still living in the home during the work you are usually covered by your home insurance policy. If you are doing larger renovations and additions, you need to check with your home insurance agent. If the work is not covered under the home insurance policy a Builder's Risk Insurance Policy will become necessary if you want coverage.
Having the peace of mind knowing that you are properly insured in the unfortunate case when something goes wrong.
Pro Tip: In most instances, the contractor can purchase coverage at a lower cost than a homeowner. You can then have them list you as an additional insured. This will allow you to get the same coverage but at a lower cost.
Written by:
Tom Hester
Tom has worked in the insurance industry since 2005, where he has become a source of knowledge. He's gained a reputation as a writer. He has published a series of ebooks about insurance, like "A complete guide for Contractors Insurance and Handyman Insurance" and "Understanding Builders Risk Insurance."