Is Builder's Risk Insurance for Painters?
March 14, 2020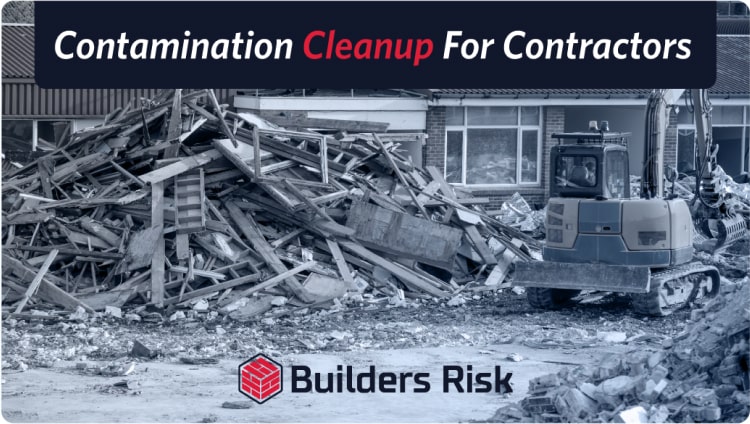 Contamination Cleanup For Contractors
March 17, 2020
Is Builder's Risk Insurance for Painters?
March 14, 2020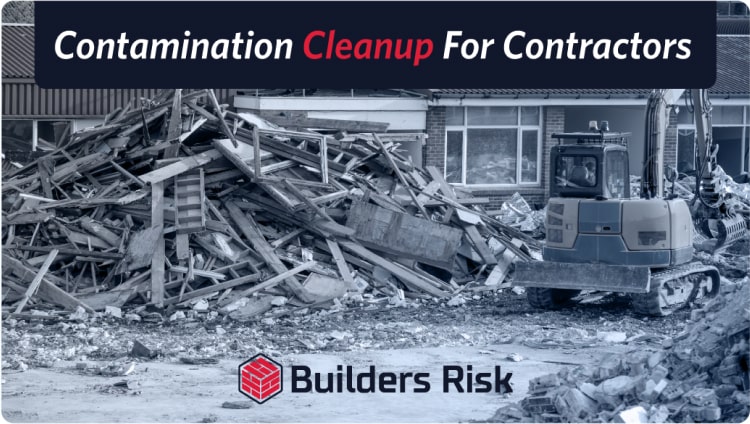 Contamination Cleanup For Contractors
March 17, 2020
Best Cheap Builder's Risk Insurance in Montana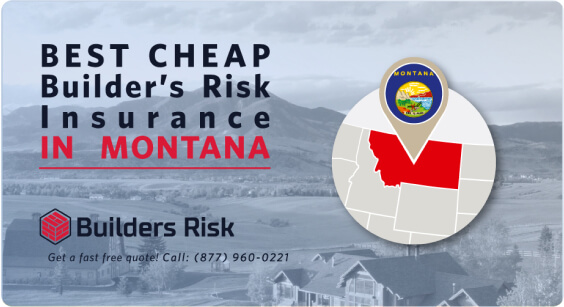 According to Farmer brown, about 50% of construction contractors in Montana experience theft on the job site while handling a construction project, which makes a builder's risk insurance policy an essential coverage to carry. In this article, we review how to get the best cheap builder's risk policy and why construction businesses need to own one.

Why is Builder's Risk Policy Essential When Handling Construction Projects in Montana?
The construction industry is associated with many risks, and it's vital to have proper liability coverage. Builders' risk insurance covers these risks and ensures you do not lose your financial stake in the project.
Builder's risk insurance is also called Course of Construction Insurance. The policy covers new construction projects and the renovation of an existing structure. However, it doesn't cover an already completed building.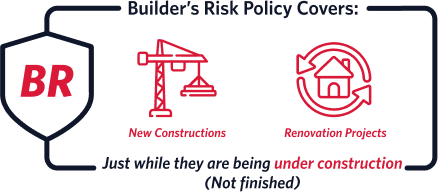 The coverage begins immediately when the construction project commences. It protects our financial assets if any covered loss occurs while on the job. Ultimately, the policy provisions ensure you don't pay for any financial implications out of pocket. The coverage ends upon the project's completion.
Who Should Purchase Builder's Risk Insurance?
An agreement should be made in the construction contract on who will be the primary insured in the policy. That ensures no shift of blame or responsibility in case any claim or event occurs. Usually, the contractor, building owner, engineer, or anyone with financial interests in the project can carry the policy and add others as the additional insured.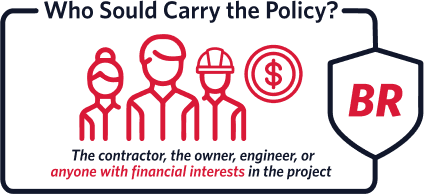 What Does the Montana Builders Risk Insurance Cover?
The builder's risk insurance policy covers every possible risk you can face while handling residential or commercial projects. The everyday dangers in many of Montana's construction sites are theft, property damage, and injuries.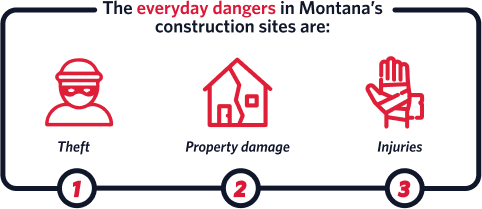 Many things can be responsible for these risks, including vandalism, negligence, fire outbreaks, snowstorms, hail, etc. Coverage options vary widely with insurance companies. Thus, you should work closely with an insurance agent to customize the builder's risk policy that suits your business.
Here are the liabilities that builder's risk policies cover:
Property Replacement The builder's risk insurance policy will cover whatever costs construction contractors may incur due to construction site accidents. They may be due to fire outbreaks, windstorms, theft of construction equipment, etc. The coverage includes temporary structures (e.g., scaffolding) and installed amenities like elevators.
Equipment Builders' risk covers equipment in transit, on the construction site, or stored in temporary structures from any damage.
Pollutant Cleanup Cost The amount construction companies pay for post-construction cleanup is usually high, depending on the square footage to clean. Thus, most rely on the builder's risk insurance policy to cover these costs. Pollutants may occur as a result of unforeseen events or due to construction wastes.
Debris Removal Many people mistake this coverage for post-construction cleanup. However, this becomes necessary if a covered peril happens on the site and destroys the uncompleted building. In addition to covering the replacement value of a building or damaged structures, builder's risk covers the cost of removing debris.
Soft Costs Any disruption to a covered property under construction usually causes a delay in project completion. Builders risk policies cover any delay or interruption costs.
The coverage of builders' risk insurance extends beyond this, and if you can't find the one related to your project in Montana, you can always reach out to an insurance company through a broker.
What Builder's Risk Insurance Doesn't Cover?
Builders' risk has a lot of exclusions, and you may have to contact your insurer to add coverage for certain things you think you should have. Without further ado, here are a few of the things not covered in the builder's risk policy:

Other insurance policies can always cover whatever liability is excluded in the builder's risk insurance.
How Much Does Builder's Risk Insurance Cost in Montana?
Ideally, most insurers in Montana charge between 1-5% of the total construction value for the project's duration. Thus, an insurance company may consider factors like construction cost, duration, location, coverage limits, level of risks exposed to, the number of available equipment, etc. to determine the premium the contractor or project owner has to pay.
How to Find the Best Cheap Builders' Risk Insurance in Montana
The scope of your services or the magnitude of the project you're handling will determine what will be included in your policy coverage. Coverage inclusion, in turn, determines how costly your premium will be. However, you can leverage an independent insurance agency to find the best cheap builders' risk policies in Montana. 
Independent insurance agencies usually have experienced independent agents or brokers that work with several reputable insurance companies offering the best deals on business insurance policies, including the builder's risk policy.
Therefore, we can help small business owners and contractors get multiple free quotes from various insurers within minutes to compare coverage, rates, terms, and other essential things before purchasing any policy. That helps you get the best deal at a cheaper rate.
The best cheap deal for you will be a policy that covers almost all the risks you may encounter and allows added coverage, which will save you from buying different policies.
The world of insurance isn't easy to navigate without proper guidance. Thus, always leverage an insurance agency. Finding brokers or agencies in Montana isn't difficult. You can reach out to Builders Risk Insurance to get started.
Written by:
John Brown
John has more than 25 years of experience in the insurance industry. He grew from a star insurance producer to owning one of the largest agencies in the country; he's a reference regarding contractor's insurance, commercial insurance, and builders' risk insurance.